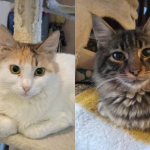 Kouklos & Omorfi
June 21, 2023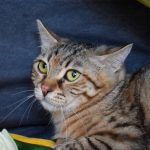 Mortis has had a difficult life as he was shot and paralyzed. At first, he needed someone to help him empty his cyst and his intestines. Someone took him to the vet to be put down but the vet refused to do it and kept him in the clinic until he could walk again.
Mortis is about two years old, neutered, vaccinated and fiv felv negative.
He is very sweet, likes to be petted a lot and sleeping next to humans. He has an issue with one of his legs and he limps. We tried physiotherapy but alas, it did not help much, however, this does not affect his daily life at all.
He gets along fine with cats and has lived with dogs for a period of time as well.