Nine Lives Greece is a network of volunteers dedicated to the reduction of the stray cat overpopulation through trap-neuter-return programmes.
Each year we get hundreds of stray cats in Athens neutered/ spayed (1,700 cats in 2019 alone) and we help improve the quality of life of some 450 street cats through daily feeding programmes and veterinary care. We also try to find responsible homes for as many stray or abandoned cats and kittens as possible. View Cats & Kittens Available for Adoption.
Support our work with a beautiful cat calendar, a stylish T-shirt, bag or hoodie, or our Cat Tails book with true stories of adopted former stray cats. Every cent of profit from Nine Lives merchandise sales directly helps street cats in Athens through vet care and feeding. Our gorgeous 2020 Nine Lives Greece Cat Calendar is pictured here. View this and our other products by clicking the Shop button.
Instagram
This error message is only visible to WordPress admins
Warning: The account for needs to be reconnected.
Due to Instagram platform changes on March 2, 2020, this Instagram account needs to be reconnected to allow the feed to continue updating. Reconnect on plugin Settings page
Become a Friend of Nine Lives and we will spay a cat in your name!
Become a Friend of Nine Lives in time for World Spay Day and we will spay a cat in your name!
At this very moment there are 364 cats waiting to be spayed/neutered so that they can go on to live longer, healthier lives. Visit our World Spay Day gallery to read their stories and become a Friend by sponsoring a cat today!
http://gallery.ninelivesgreece.com/
February 26th is World Spay Day – a campaign that spotlights the importance of spaying/neutering, a proven way to reduce stray cat populations and improve their everyday quality of life.
Friends of Nine Lives annual fee starts at €35 or just €3 /month – which is the cost to spay a single cat – and any amount you contribute will go directly into controlling the stray cat population of Greece.  This year, you can also sponsor an entire colony. With a gift of €350 or €29/month, 10 of our most urgent cases will be spayed/neutered thanks to you!
Feline Friend
Reward: An email with our purrrsonal thanks!

[€3/mth]
1 cat spayed/neutered!
Purr-fect Pal
Reward: An email with our purrrsonal thanks!

[€6/mth]
2 cats spayed/neutered!
Cool
Cat
Reward: A Nine Lives Calendar and our purrrsonal thanks!
[€9/mth]
4 cats spayed/neutered!
The Cat's Meow
Reward: A Nine Lives T-shirt and our purrrsonal thanks!
[€20/mth]
7 cats spayed/neutered!
King of the Catwalk
Reward: A custom-made keepsake and our sincerest thanks!
[€35/mth]
12 cats spayed/neutered!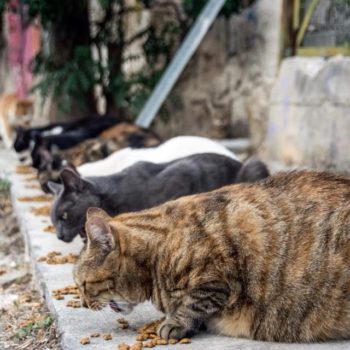 Cat-Feeding with Nine Lives
If you are visiting Greece and you are a cat lover, why not join our Colony Cat-Walk? The approximately one-hour free of charge tour takes place in the historic centre of Athens, where we feed over 150 spayed/neutered colony cats every day. Get to know our feline friends and their stories, enjoy a stroll through the picturesque heart of the city, and if you wish to, support our work by purchasing Nine Lives merchandise. Donations of cat food for the cats you will meet are welcomed with open paws!
NB Our tours are not associated with the money-making cat tours advertised on online platforms. Nine Lives charges no ticket price for these tours, and any donation made directly helps the cats get veterinary care and food.
To find out more and to arrange your tour, contact us using the pink Contact button below.