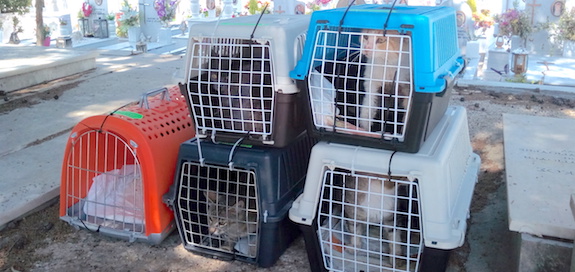 Helping paws from afar through donation for neutering programme
October 5, 2017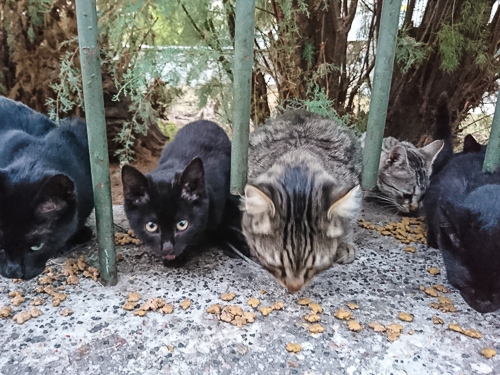 The site of sightless cats
December 13, 2017
As authorities dither, the trademark cats of a National Gardens cat colony – fed, neutered and cared for by Nine Lives Greece volunteers – are being exterminated by free-roaming dogs.
On November 3, Amelie and Bambina's world was torn apart. Dogs attacked the park where these cats have lived all their lives, charged Amelie and Bambina to the top of the closest tall trees, grabbed their feline companion Winnie between them, shook him till his spine snapped and ran off.
Nine Lives volunteer Ioanna F found Winnie when she arrived to feed the cats. He was writhing in agony close to the entrance to the National Gardens, passed by many on their way to work. One of these passers-by happened to be vet Chrysa S, with whom Nine Lives works closely, a great vet and a devoted cat-carer. She and Ioanna carried Winnie to Chrysa's nearby vet clinic, where she put him on intravenous painkillers and light sedation to assess the damage: severed spinal cord, paralysis of the hind legs and tail… As Chrysa stroked his body, caked in saliva from the dogs, Winnie took a final, stertorous breath and died.
The cats of the National Gardens are mentioned in many travel guides to Athens: the plump and healthy cats, fed and neutered by Nine Lives, used to pose for photos and share sunny bench space with visitors. Sadly, this publicity also led to an image of the park as an oasis for cats, so it became a popular dumping ground for unwanted cats and kittens. Lately, although the dumping continues, sightings of live cats are rare, unless a visitor happens to coincide with the morning walk of a Nine Lives feeder. The few cats still there spend their days and nights in hiding, emerging only briefly to eat while the feeder waits with them, then disappearing again. The reason? The influx of dogs, as a group of stray dogs took up residence and rules forbidding dog-walking in the park were relaxed. Kittens abandoned there are rarely found alive, while home cats left there have only about a 10% chance of surviving even a week.
It was vital to act immediately to save the other members of Winnie's cat colony. Having found prey there, the dogs would be back. Within hours, volunteers from Nine Lives had caught and brought to safety young tabby Amelie, her slightly older and more rounded tabby counterpart Bambina, and Ivan, a handsome Russian Blue-type who had appeared at this spot a year ago. The girls, who have lived in the park since being dumped there as kittens and miraculously managed to survive, were understandably timid after their ordeal and change of circumstances, but almost immediately enjoyed strokes and even belly rubs at their foster homes.
Amelie loves to have her chin scratched, and Bambina likes cuddling between her foster 'parents' on the pillow at night. They would both be happiest being adopted by experienced cat guardians, who are willing to give the girls plenty of time to adapt, and ideally in homes with safe gardens where they can enjoy outdoor life as well as indoor. Bambina is currently fostered with a 'teenage' kitten, and she is extremely tolerant with him, although not herself playful. She is approximately 4 years old, spayed, vaccinated and microchipped. Amelie is currently fostered alone, without other cats, but she would be happy with the company of other, easygoing and friendly cats. She is 18 months old, spayed, vaccinated and microchipped.
Ivan made it clear that he was an unhappy house cat, hiding, trying to escape, howling at night and barely eating. It was not an easy decision, but we decided to move him to a garden home, starting him off in a large crate with bed, litter, thrice daily visits from his new human carers and constant company of the other neutered strays who live there, and after ten days he was ready for the door to open. He has settled in well, been accepted by the other cats and even rubs against them and shares his portion of food.
We thought that by taking these three cats from the place where poor Winnie had been killed we could avoid more deaths. How wrong we were. The very next day, we found the body of a small wild black kitten which had appeared in an abandoned hut, fed each day by our volunteers as they tried to gain its trust to take it to the vet and find a safer colony for it to join.
Three weeks later, dogs struck again, at a spot we had felt was safer as the cats had access to a fenced area. Our duo Bruce and Molly Sue had lived there for many years (Molly Sue is the oldest cat in the Gardens and as such is extremely clever, alert and streetwise) and are adept at keeping away from danger. But Bruce liked to come out from the fenced area to scratch his nails and roll at the foot of a tree across the path.  That day, it seems he was surrounded by two or more dogs before he had realized they were coming, and they shook him to death. His body, soaked in saliva, was found beside his favourite tree by feeder Ioanna Ts. Even as she was phoning us in shock for help, she saw two large dogs casting around the area, sniffing in a state of high excitement.
How long could elderly Molly Sue survive there, at the scene of the crime? So, we caught this fragile but feisty cat too, taking the chance to bring her to the vet for a complete check-over before moving her to our volunteer Dalida's house, where two other senior cats from the same park are living out the remainder of their days in safety. Molly Sue's blood tests showed elevated numbers for some of the liver-related counts, so she is on a special diet for now and will undergo an ultrasound and further blood tests, at the vet's recommendation, in a month's time.
Amelie, Bambina, Ivan and Molly Sue are now safe. Winnie, Baby and Bruce live on only in our memories. Those who follow our social media know that these are far from the first cat victims in the gardens. And they will not be the last, unless the authorities take action.
We, Nine Lives, wish that we could take all the cats from this park. But although we try our best to find homes for as many as possible (13 adopted from there this year alone), it is exceedingly difficult to find good and understanding homes for adult cats that have had to live outside and defend themselves, or to find safe garden homes for those who are not happy as indoor cats.  And, sadly, the abandonment of cats and kittens does not stop.
We have appealed to the Athens Municipality and the head of the National Gardens, imploring them to enforce Greek law which requires owned dogs to be kept on the leash in public places, and to put bells on the collars of the stray dogs that live in or in the close vicinity of the park, at least to offer the cats more warning of their approach.
The head of the Athens Municipality's 'urban fauna' division asked us to a meeting at the end of November to discuss the situation. Also present at the meeting was a representative of the Greek animal welfare federation to which Nine Lives belongs, who, to our consternation, stated that she did not personally wish to see the law requiring owned dogs to be on leashes enforced, thus putting the dogs themselves and all other animals in the park at risk.
The resulting proposals by the municipality regarding owned dogs in the park were:
1) To add more signs around the park asking dog-owners to 'be responsible' (there are already notices at the entrances requiring dogs to be on a leash, which are routinely ignored).
2) To set up ad hoc patrols through the park to discourage unsociable behaviour by dog-owners, be that letting their dogs attack people, other dogs or cats, or not picking up their dog's mess. We await clarification of when these patrols will start, how often they will take place and what the penalties will be.
The municipality representative rejected the idea of bells on stray dogs on the grounds that it was cruel. We asked if they had better suggestions of how to protect cats from stray dogs in the park, but they couldn't offer any.
Every day our volunteers go out feeding with the fear that they will find another dead body. Another cat they loved and cared for, that they woke up early before work and travelled across the city for, to search for in each cat's special hiding place, to give breakfast to, stroke and cuddle, and take to the vet when ill or injured. Brutally killed because some people believe a domestic dog has more of a right to complete freedom, from leashes, bells, any kind of restrictions on their natural behaviours of chasing and hunting, than a cat has a right to live.