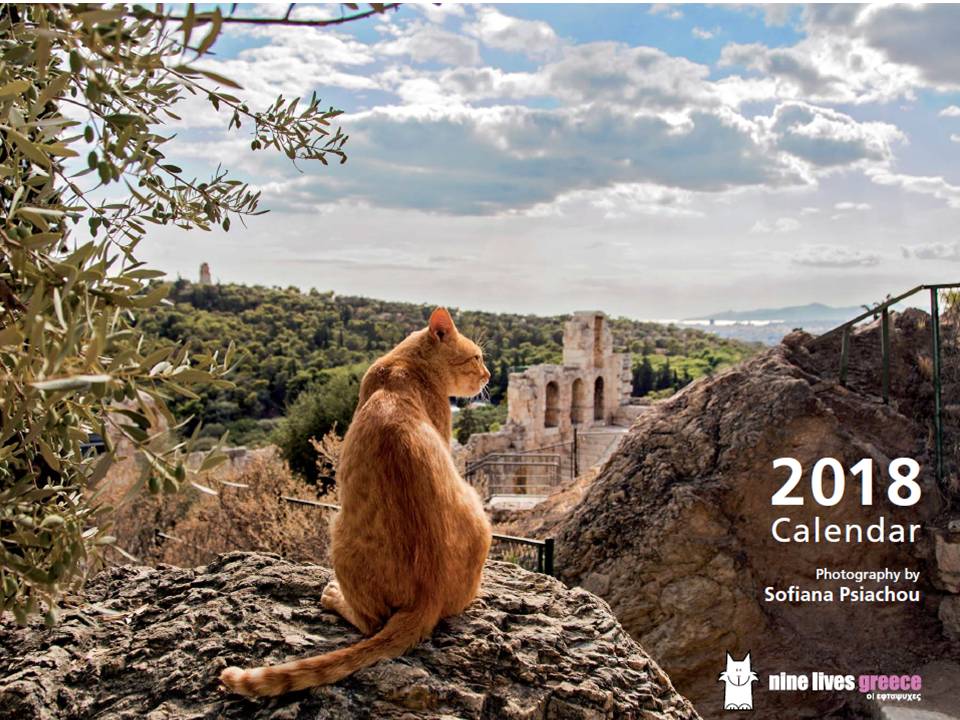 Stray cats with phenomenal looks appear on the gift that keeps on giving!
October 5, 2017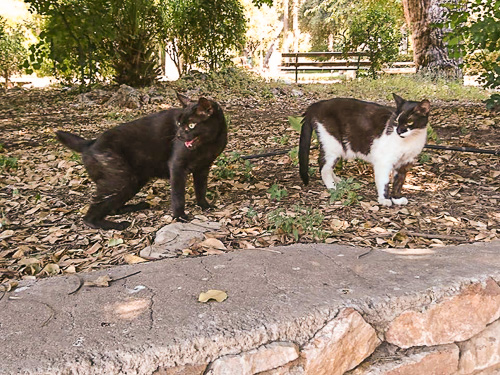 Central Athens cat colony at risk of annihilation
December 9, 2017
Generous support from Greek Animal Rescue helps Nine Lives to expand our neutering programmes for stray cat colonies, as well as to find a loving home for a senior cat abandoned at an Athens park – now living happily in London!
Almost every cemetery in Athens has its resident cats. They play an all-important role in keeping down the rodent population. Some visitors appreciate the quiet companionship as they tend to their loved one's graves, but others persecute or poison them, considering it an insult that cats preen themselves in the sun on the tombs.
In the past, Nine Lives has helped with trap-neuter-return (TNR) programmes for cat colonies at Athens' main cemetery as well as at the cemeteries of Kaisariani and Papagou (though tragically at the latter, most of the cats were poisoned shortly afterwards and despite pledges by the local authorities to investigate the matter, no perpetrator was brought to justice).
A few months ago, Nine Lives volunteer Fotini visited a cemetery in western Athens, and was shocked. "I have no words to describe it," she told Nine Lives. "The situation there is tragic. More than 60 cats, half of them pregnant and the other half coupling and fighting… They are being fed, but there is no neutering or vet care."
Fotini contacted the local municipality, who pledged to pay for the spaying of two females from there – a drop in the ocean, but a start. We at Nine Lives immediately covered the costs for spaying five more females.
Just as we were despairing over how to find the funds to make a really significant difference to these cats, a miracle: an email from Greek Animal Rescue (GAR) in the UK, awarding Nine Lives a grant to help us continue and expand our spaying/neutering of stray cats in Athens. We let Fotini know the great news that she could go ahead, and within the next eight months she and her friend, also called Fotini, managed to catch and take to the vet for spaying/neutering a grand total of 39 of the cats from the cemetery. The work will continue until all the cats there are spayed/neutered.
Many of the cats had fight wounds, skin problems, and of course fleas and worms, so each cat also received antiparasite treatment, and Fotini gave several cats medication for additional problems. She also fostered four kittens born at the cemetery before she started the neutering programme; these kittens were immensely trusting and sociable, and started following visitors out of the cemetery gates and onto the main road. One was hit by a car and killed, so Fotini took the remaining four home, treated them against parasites, got them vaccinated and found good homes for them.
The grant from GAR also enabled Nine Lives to help another cat colony in need. It was far smaller than the cemetery colony, but also a typical Athens situation. A woman living in a ground-floor apartment had a stray cat visitor from time to time; she started feeding her, then another cat appeared. Neither was neutered, so in time there were kittens, and very quickly it all got out of hand. Other residents of the building started complaining about the smell of cat-food and marauding unneutered tomcats, and the woman herself found a rampant flea population in her apartment. She emailed us asking for help.
Nine Lives volunteer Eleni lives nearby and kindly offered to help trap the cats. The back yard is inaccessible from the road, to humans, so she went through the building and out the back to find what she describes as "the 50 shades of grey cat colony". A beautiful extended family of cats of varying grey coats: some pure grey like Russian Blues, some grey-and-white, some very dark grey, verging on black.
During July and August, Eleni caught all seven adult cats from this colony and took them for neutering thanks to GAR's donation, and over the next month she will take the three kittens, who are now nearly 5 months old.
Talking of grey cats, handsome Silver also had his life changed thanks to GAR. In his case, not through neutering and the subsequent health benefits – that had been done a long time ago – but through uniting him with his human soulmate. Senior cat Silver had been abandoned in an Athens park just over a year ago. A striking silver-tabby with gorgeous rosette markings, he hid at first in this new and dangerous place, before gradually learning to trust his feeders and emerge every morning for a bowl of food and some caresses. As an older cat, he could not run or climb so quickly as the younger cats, to escape the dogs that run through this park hunting anything in their path, and we feared for his life.
When GAR contacted us to ask if we had a senior cat for a wonderful supporter of their charity, whose old cat had recently passed away, it was his chance! Silver has now been living in London for nearly a month; having spent the first days in a sensible vantage point under an armchair, staking out his new surroundings, he is now enjoying sitting on adopter Roger's lap, snoozing in his igloo bed, and watching the birds in the garden.
We at Nine Lives are indebted to all of the team at Greek Animal Rescue and to their kind supporters, for their belief in us and our work, helping us to help so many more stray cats in Athens.