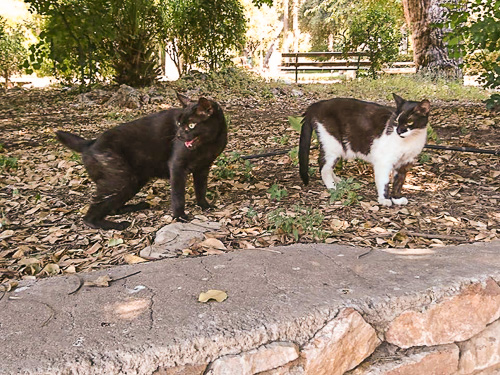 Central Athens cat colony at risk of annihilation
December 9, 2017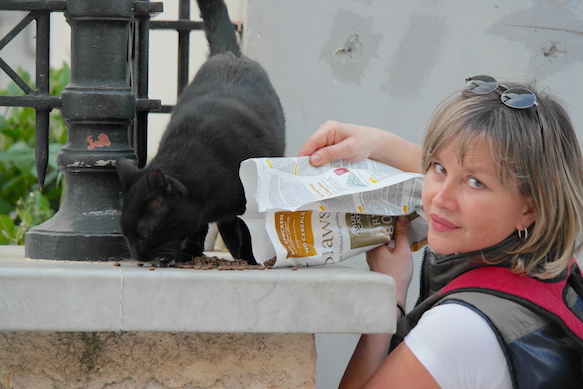 Meet the New Board
December 28, 2017
Stray cats at an archaeological site were breeding blind kittens – a TNR and vet care programme was crucial.
This autumn, we started working with a new cat colony, living at the edge of a central Athens archaeological site. These cats have been on our radar for a while, but due to a shortage of active volunteers in the area, we hesitated to expand our neutering/vet care programme there. However, the wake-up call came with a plea from a cat-loving visitor from the US who had found three blind kittens.
During our first two searches, we didn't find the kittens in question, but met a colony of some 14 cats, including at least three nursing mothers, an older neutered male, a big tomcat, plus kittens of various ages, mostly suffering from cat flu and associated eye problems.
A few days later, an acquaintance who works nearby found two of the three blind kittens and got them to one of the vets we work with. One's sight could be partially saved, but the other is almost completely blind. After treatment at the vet, these boys – soon named Asterix and Obelix – moved into a foster home, where they flourished. It was clear that they needed to find a permanent home together, as blind Obelix relied heavily on his semi-sighted brother. We are happy to report that the two boys were adopted together at the beginning of December.
Despite frequent searches, we never managed to find the third kitten, to our great regret. The mother cat turned up alone about a month later, and we have now taken her to the vet to be spayed, so she will not pass on the virus that blinds her litters to any further kittens. Photographer Simon, visiting from England, helped us catch her, so he chose her name: Willow.
During our first visits there, we met one of the many people who leave food for these cats. This girl asked our help catching one of the early-summer kittens who she is particularly fond of. The kitten, named Circe, was very thin and plagued with diarrhea. We caught her and took her to the girl's vet, where she got all the necessary treatment and made a good recovery. At the same time, we took four of the 'teenage' kittens to our vets for flu treatment, antiparasite dosage, followed by neutering/spaying. Again, visitors from England, Caron and Mia, were with us at the return of two of these girls, and named them Audrey (an extremely friendly tabby) and Damsel (an elusive calico).
Just when we thought the colony was now mostly spayed and healthy, we were told about a one-eyed mother cat who had appeared with her three tiny tabby babies, all with varying degrees of cat flu-related eye problems. We found one baby, eyes sealed closed with pus, sitting in the middle of the busy pedestrian way, with passersby stepping over him. We caught him and his mum, who was nearby, then searched all around for the remaining two, but there was no sign of them. At least, we reasoned, the two left had each other (and other kittens and mums at the site). The next day, we tried for hours to find and catch the other two kittens. We were determined to catch both, but one disappeared into the site and it was by then too dark to keep searching. We now had the two with the most seriously affected eyes, and we vowed to try again for the final kitten as soon as it was light. And indeed the next morning, just before a huge rainstorm, we found and caught the third tiny tabby and the whole family was reunited at the vet.
The most touching moment was when the third kitten (after antiparasite treatment, eye cleaning with Tobrex and an antibiotic injection) was placed in the hospitalization cage with her family, who had all already had the same treatment. Her mum went straight over to her and started washing her. The other girl kitten wanted to play with her. Meanwhile, the little boy kitten just sat staring at mum in adoration, occasionally letting out a heartfelt meow.
The family stayed at the vet for ten days on treatment. We are very sorry to say that the boy kitten died despite the vet's most caring attentions. The two girls got stronger, their eyes cleared and the diarrhea ceased. Mum, who we call Mamma Mia, was spayed, and the trio was ready to return to their colony. On a warm and sunny morning, we brought the family back to their 'home'; the other cats and kittens rallied around to welcome them, we gave them breakfast and fresh water, and all seemed well.
But two days later when we went back to visit, we found the dead bodies of three of the other, older, kittens from the colony. Something was seriously wrong here. We re-caught Mamma Mia and her babies and took them back to the vet, where they are having tests for giardia, panleucopaenia and peritonitis. As soon as our vet has determined the disease that is ripping through this colony, we will be able to do the right treatment to prevent more kittens there dying.
The 'big daddy' tomcat has now been neutered, and all except one of the adult females spayed (she is still nursing her kittens), and once the younger generation are safe from this blight, we will get them spayed/neutered too and look forward to them having a healthier, happier, longer future.
Our thanks to Shanna, to Margarita, Maria, Zoey, Sylvie and Maria Liston, and as always our vets, for their invaluable help with these cats.