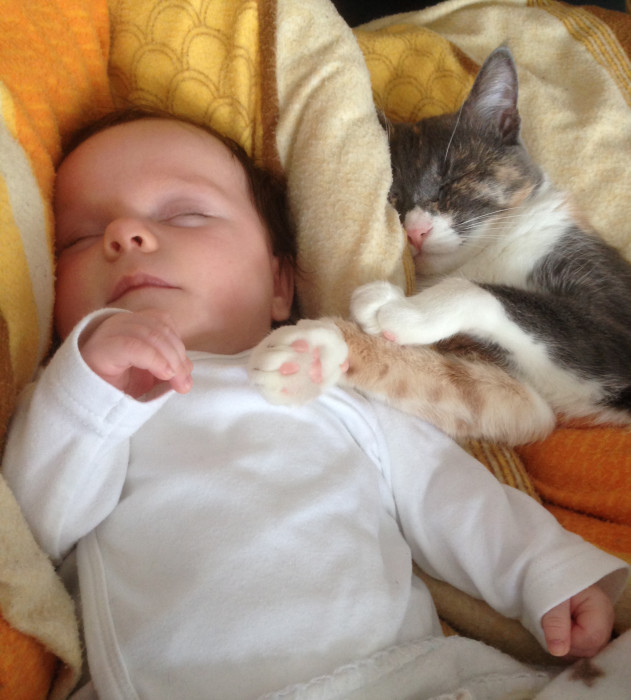 Domestic cats and kids: the myths vs. the truths!
October 10, 2018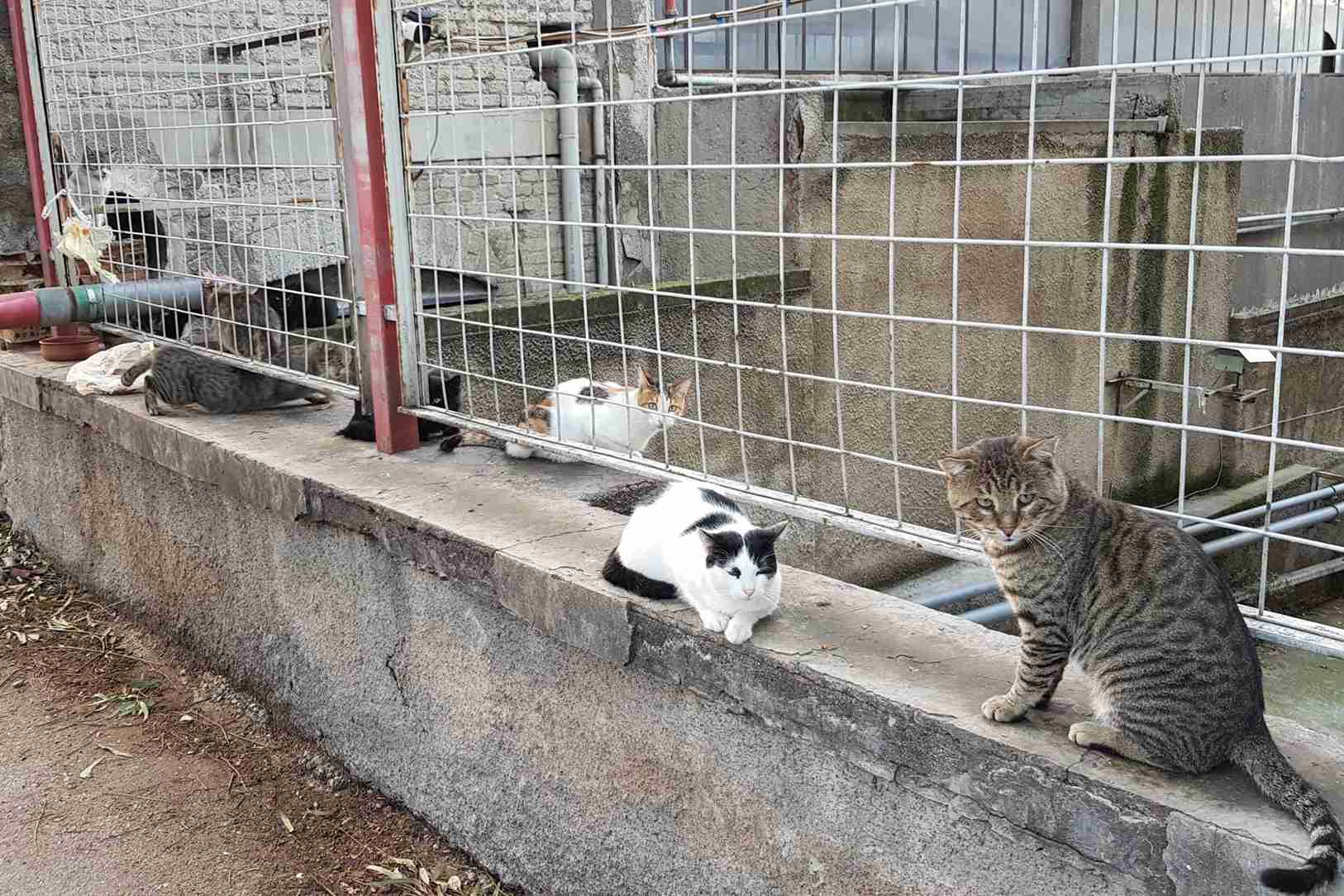 A helping paw for the factory cats
October 27, 2018
Sven tells the story of how his family, with the help of Nine Lives, gained a precious souvenir of their Greek summer vacation – a small semi-blind stray kitten.
In July 2018, my wife and I went to Greece for a road trip of two weeks with the kids. We landed in Athens, the famous city where it all begin for Europe ages ago.
On the first day in Athens we encountered many stray cats, and since our family loves cats, we looked for them all over the place, wherever we were. In the afternoon of the first day we saw one black-and-white female (with beautiful eyes, which I will always remember) with two little kittens gazing at us, sitting at a parking place to drink some water from a bucket. It was a charming sight to see, until we saw the little ones looking up at us with their eyes completely closed by an infection. It was horrible, an image that will never leave my mind again.
All day I was wondering what to do. How could I help these poor souls? We marked the spot on the map (we thought) and went back to the apartment. That night I started looking up volunteer organizations in the Netherlands, and started some inquiries. Next day I got a response from one and they advised to contact Nine Lives in Athens. They said they knew the organization and that they were really helpful.
I immediately contacted Nine Lives, and the same day got a response from Cordelia. Athens at that time was hit by terrible fires, so time was short on their hands. Many animals needed immediate rescue and attention, but they still promised to go and have a look the next day. But it turned out that we had marked the wrong location. How unfortunate! Nine Lives searched but were not able to spot the poor souls. Time was ticking, since the eyes would be infected with the horrible cat disease for sure almost.
We decided to turn back to Athens for our last days of the holidays, to go back to the exact spot where we knew we saw them. While driving through Athens to find a parking place, by coincidence we drove by the exact location once again! We took pictures and looked for the cats, but they were not there. We decided at least now to send the right details of the location to Nine Lives.
Next day, we heard back from Cordelia that they knew the location at this parking place. All the other cats at the car-park had been spayed/neutered through Nine Lives, trapped and transported to and from the vet by volunteer Zoey. The cats were fed by the car-park owner, who had mentioned a new black-and-white mum and kittens but despite searching, Zoey had not yet seen them herself. We had to fly back home, but we felt hopeful now. Two days later, we got the news that Zoey had spotted the family again, only one of the little ones was overrun by hectic traffic in the streets. So unfortunate, I felt deeply sorry and thought the other little one wouldn't survive either now.
Then a day or so later we got the news from Cordelia that Zoey had been able to catch the second little one and take him to the vet! Mum got away, but at least this one was saved now, and Nine Lives could finally start his treatment for the eyes, since these were in a really bad shape. They started immediately with antibiotics and eye drops. It was overwhelming to hear all the good news flowing in from Cordelia and Team how this little one was now helped.
Some days later Cordelia asked me if by any chance we could help find a good home for this poor soul. At first I hesitated, since we had just adopted one cat of our own, but then my brother came into play. He wanted a friend for his cat, since he felt she would need the company. This was after our adopted cat had stayed with his cat during our summer break. So I just asked… And he said, 'Yes if it's a male.' So we asked and Cordelia replied: 'It's a male!' How about that?!
So Nine Lives now started planning everything necessary for the little one's travel. And my brother chose him a name, Boots. The vaccines, the eye treatment, the vets, the super-friendly foster mums Erofili and Zoey, the flight, all was taken care of! I started realizing how immense the network in the volunteer organization is and how they all help out, without any problem and all voluntarily. Amazing. My respect grew by the day for them all.
Also great was the news that the mum of Boots was found and taken to be spayed. It all started to fall into place now.
Then just before the flight, my brother had a terrible motor accident. He crashed on the highway and was severely injured. We had to cancel the flight. It was shocking, just horrible for all. Still, even in his hospital bed, one of the first reactions of my brother was: 'What about Boots now? I still want him to come!' Truly amazing! So we started discussing options with Cordelia for later on. We decided we had to delay at least for 2 weeks, to see how my brother would progress. In the meantime this was actually also good recovery time for Boots. He needed the rest at his foster home to recover more from his illness and eye infection. It was meant to be for Boots. My brother was recovering at an amazing speed. After his second surgery for his wrist he started coming back to life and was able to speak better. He wanted Boots to come; he kept on asking. So we booked his flight for 4th October, World Animal Day! 
Boots was nervous during the trip, but what are those few hours to get to your forever home and live life in luxury from now on? Arriving at my brother's place, we went to Boots' first room (quarantine quarters, filled with toys and treats) where he would stay for the first days, to get to rest. We opened the door of his cage and Boots immediately jumped onto my brother's lap, to stay there, to purr and to get petted. It was a lovely (love at) first sight.
Both are doing well now. My brother is recovering at amazing speed and it looks like he will be able to do everything in some weeks from now again. As we had been told by the eye vets in Athens, Boots' right eye is blind, but he is definitely able to see a lot through his left eye. He is playful, charming and very trustful. We all love him.
I want to thank all the Nine Lives team, the vets and all volunteers involved, from the bottom our hearts. We think you are special. You truly do make a difference in this world. We respect everything you do, the way you do it and who you are. Thank you sincerely.
 Sven, Rik and families.