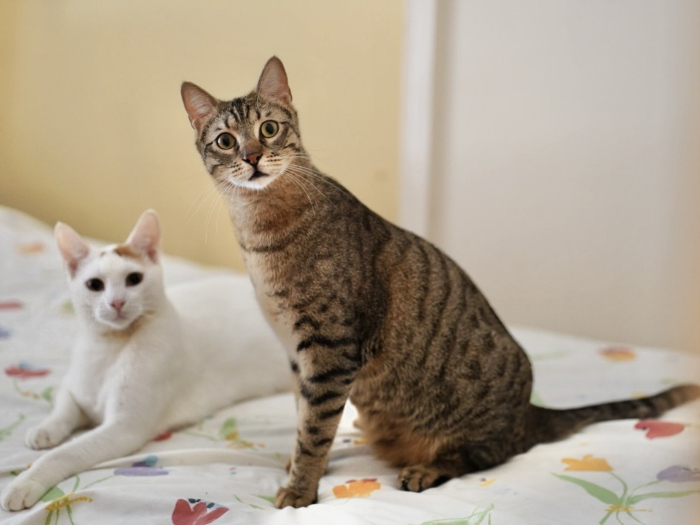 Pinky and Ronan, two rescued cats
November 6, 2021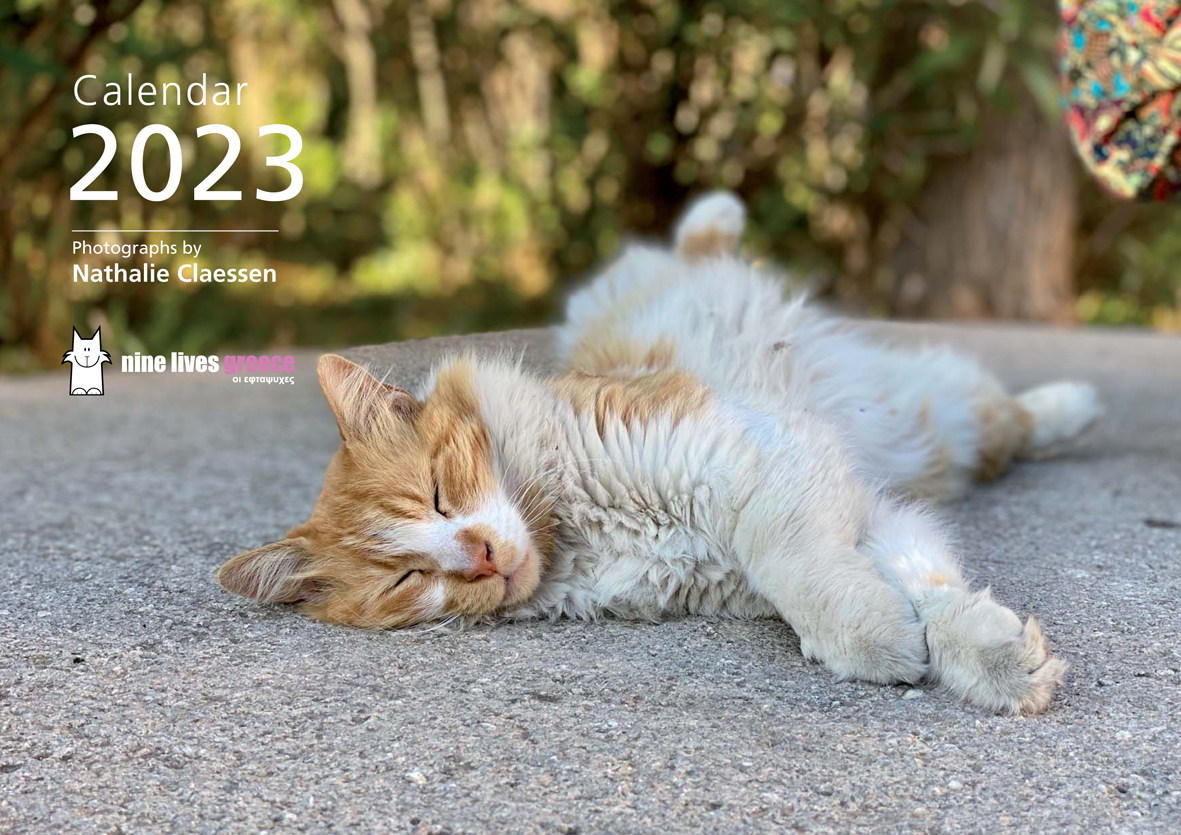 The new 2023 Nine Lives calendar is here!
October 15, 2022
Sue and I have been travelling to Greece for over twenty years and have had the great fortune of visiting many of the islands. We have also met some wonderful cats and often wished we could have adopted some of the needier ones to cross our path. Unfortunately, our dear old cat Simba would have taken a very dim view if we had returned from holiday with an unexpected furry bundle: he was quite territorial and a bit of a loner. Sadly, Simba passed away in 2020 and about six months later a little Greek rescue kitten came to our attention. His name was Teddy and he looked absolutely gorgeous.
He had been rescued on the island of Poros by a lady called Trisha (along with her friend Rebecca). Trisha feeds over 60 strays as well as providing a home for over 20 herself, and organises veterinary care and neutering programs on Poros. We adopted Teddy and set about the process of obtaining the necessary paperwork. By the time he was ready to travel, the UK had left the EU so we found ourselves confronted with a mountain of new paperwork that we and the rescue organisations had to feel our way through as we all got to grips with it. By the time we finally got Teddy home 8 months had passed since we first contacted Trisha and we had got to know each other quite well. It had been such an undertaking that Sue suggested I should write a book about the experience … so I did.
The book, Herding Cats and other Greek Tales, tells Teddy's story, as well as Trisha's extraordinary commitment to feeding, neutering and rescuing cats on a small island in Greece.
The second part of the book gives a flavour of some of the experiences/adventures Sue and I have had in over twenty years of visiting Greece, featuring – Skiathos, Lesvos, Naxos, Sifnos, Serifos, Samos, Patmos, Kefalonia, Southwest Crete, Astypalaia, Paros, Syros, Andros, Milos, Ios, Tinos, Athens and a little on Mykonos and Santorini.
There are over 300 black & white photographs in the book along with a link to my website where you can see them all in colour.
Trisha also has a connection with Nine Lives Greece. Trisha tells the story:
"About 7 years ago I was feeding street cats near a house I was working on in the old town on Poros island. There was a very scared, wild, deaf white cat that stealthily and suspiciously turned up for food. Slowly, my friend Michael cajoled Aslan (as he was named) into eating from his hand. One day Aslan turned up with his white fur falling out revealing pink skin. Someone had thrown acid on him! I asked a Greek charity for help and was put in contact with Cordelia who visited Poros and met Aslan. She then put Aslan on her Nine Lives website for adoption. He was immediately accepted for adoption by Andrew Dean in the UK who now runs Spartan Cats after seeing the plight of the cats on the island.
Cordelia, Andy and I became friends and helped each other with our work in aid of the cats. I visited Athens and joined in a feeding round with Cordelia and a TNR for Athens strays. Cordelia deftly used a dropper cage to catch the cats. This is where I found out about using a white dropper cage for catching reluctant strays.
We contacted each other about the poor homeless lady in Piraeus who looks after over 30 cats. We both arranged with Nikos, the vet who also has a clinic on Poros, to be in his Piraeus clinic in order to do a TNR. This was successful. We also arranged food for the cats and blankets and clothes for Anita the homeless lady.
Cordelia and I are always in touch and try to help each other."
In 2015 Sue and I visited Athens with our good friends Karen and Andy. They have visited Athens regularly over the years and have got to know the wonderful people at Nine Lives, helping them out on feeding rounds when they are in the city. Karen kindly wrote a little piece about her experiences with Nine Lives, which is included in the book in the chapter about Athens.
The book is available from Amazon in both paperback and Kindle formats: Herding Cats and other Greek Tales.
I decided to give all of the proceeds from the sales of the book to the animal charities I have recently come to know:
Nine Lives Greece
Greek Animal Rescue – GAR
The Greek Cat Welfare Society (UK) – GCWS
Caring for the Animals Trust – CARAT
Brighton City Cat Shelter
I have also set up a Facebook group for the book where people can tell their own adoption stories and I will update it from time to time with news from Teddy, Trisha and the book's fundraising: https://www.facebook.com/groups/1471681759877496
Dave Burnham, March 2022