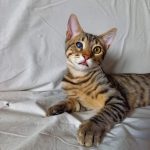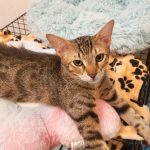 Bellos is a beautiful, cuddly black panther who was rescued from the street and now really wants to live in a home with his humans. He is an adult male cat (exact age unknown but suspected between 1 and 2 years old), neutered, and FIV+.
Originally suffering from an infected paw and upper respiratory issues, Bellos was taken in and rehabilitated by a volunteer. When he was neutered several months ago, his left ear was cut to indicate his sterilization, and he was returned to his colony. However after a volunteer checked on him months later, he was practically begging to be rescued – coming right up to the volunteer for pets, and once at home in foster, quickly began enjoying cuddles and making biscuits on the bed.
He now loves sitting on laps and having cuddles, and follows his humans around the home. He loves sleeping in a cuddly bed.
He's very food motivated – a Churu treat in front of him means you can clean his ears, cut his nails, and even bathe him if needed. He is incredibly tolerant and really just the perfect cat.
He is incredibly patient, and is completely non-reactive to aggressive cats. He is not a fighter what so ever (if anything he's more likely to be bullied by a dominant cat). He just wants to be friends and enjoy cuddles as he misses his cat colony.
He can be indoor-outdoor (if adopted overseas) as he is street-smart, but once he's settled, the adopter must evaluate him to see whether he's better suited to stay inside only, or if he knows how to go out and come back in. Considering he's FIV+ and more vulnerable staying permanently outside is far from ideal.
The adopter will need to be able to take him to the vet as much as he needs considering his immunodeficiency.