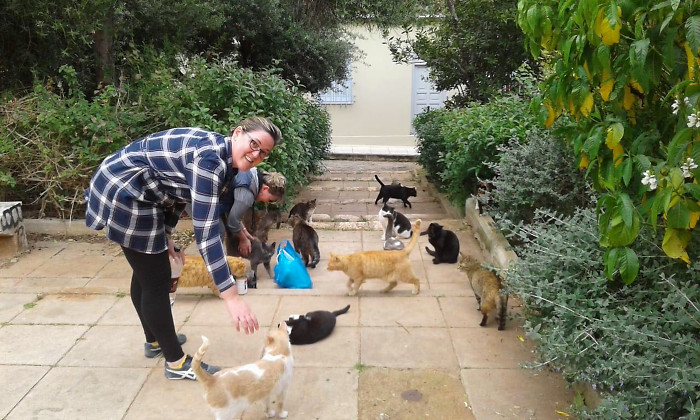 A little help goes a long way
November 8, 2018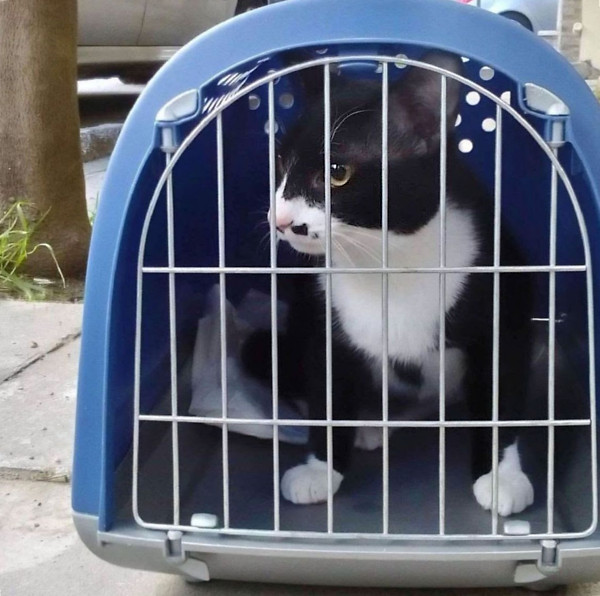 Another record breaking World Spay Month!
March 4, 2019
Helping cat survivors of the eastern Attica wildfires
Three months after the devastating summer wildfires, we continue to visit the fire-ravaged areas of Kokkino Limanaki and Mati in eastern Attica, providing food, fresh water and, where necessary, vet care for remaining cat colonies.
The first week after the fires, the narrow coastal roads of the area were full of volunteers – individuals, groups – shocked by the tragic events and spurred into action to help, humans, animals, whoever needed it. Huge piles of dog/cat food and buckets of water appeared on every blackened corner, and social media was full of videos of charred-whiskered kittens and stoic stray dogs with burned paws being rescued from the wreckage of scorched houses, sheds and kennels.
Sadly, attention soon turned away from the topic, and even just a month after the blaze, only a scattering of volunteers were left helping the animals of the area. At the time of writing, the daily feeding is largely done by just one man, the admirable Panagiotis of Pegasus local charity, with food donations from various organisations and companies, including, via Nine Lives, Purina. We at Nine Lives, and the volunteers at Adespotologio, have between us taken a total of more than 120 stray cats from the area for neutering/spaying and vet care, but there is still much more work to be done.
The first visit
On our first search-and-rescue mission to the area, 4 days after the fire, we were accompanied by Dr Cliff Redford, a veterinarian who had travelled all the way over from Canada to meet charity organisations, including Nine Lives Greece, and see our work. Fully equipped with first aid supplies, kilos of wet and dry food, gallons of water, clean bowls and buckets, traps, cages, catching gloves, a grasper pole handmade by Dr Cliff, and masks to filter the toxic fumes from the still-smoldering site, we set off.
Dr Cliff was able to help a young goat with burns to her face, front leg and tail, and we caught and took to collaborating vet clinics two cats with burned paws, one with a raw wound to the neck that may or may not have been caused by the fire, and a mother-cat and two kittens with smoke-related respiratory issues. We saw a dozen or so cats who seemed miraculously unscathed, who we fed, watered and took notes of their locations to revisit. But that was about it. It seemed that the fires, which swept through these coastal areas at an estimated 200km per hour in a haphazard pattern fuelled by cyclone-like winds, had decimated all other life
However, on each subsequent visit, more and more animals started to appear. Mainly cats. Having run away or lain in hiding throughout the inferno, they were now slowly returning or emerging, to find the places they had called home reduced to ash. Dogs, being so much more visible and generally easier to catch, were all swiftly picked up and, thankfully, in many cases reunited with owners or carers.
The cats are a different story. We Nine Lives volunteers have to date caught and taken for treatment, neutering/spaying 55 cats from Mati and Kokkino Limanaki, and none of them had an owner to return to. None had microchips; none was spayed or neutered.
Having managed to escape the blaze, some of the friendliest strays had a chance to find homes and start new lives as loved home cats.
From strays to happy home cats
Sweet Fotias is an example, a young and cuddly white-and-tabby boy with a large wound to his neck. No microchip, no collar, no claim from the ads we posted. After treatment, neutering and a happy few weeks in a foster home, he found a great home with a dear friend of his foster mum.
Little Cliff, found by Dr Cliff on our first visit, was a tiny tabby stray kitten with a badly infected eye and respiratory problems. With his first appearance on social media, he was immediately offered a home with a family in Athens, and quickly became their two young daughters' beloved 'little brother'. Each time we visit, Cliff has yet more new toys, scratching posts and treats!
Tragically, there were also cats whose carers had perished in the blaze. Thekla and Passas were just two of countless cats who had lived with elderly Mrs Thekla in the woods outside Kokkino Limanaki. She was unable to leave, and died in her home along with several of her animals. We named the first cat found in the rubble in memory of her; thin, scared, unspayed and suffering from respiratory issues, calico Thekla is now a healthy, plump, gentle and sweet-natured girl who was lucky enough to find a superb home with one of our most open-hearted Nine Lives supporters. As if that wasn't enough, he also offered a home to Passas, one of of Mrs Thekla's tomcats, rescued with a burned paw and severe cat flu. Now named Tiger and Felix, these two are among 5 in total that we rescued from around Mrs Thekla's home.
Matias, now Smitti, has a similar story. Nine Lives received an appeal some days after the fires to catch a cat in Mati with a severe neck wound. While trapping him, our volunteers learned that this injured tabby-white boy was among many cats cared for by an elderly couple who alas died while fleeing from the fires. During his long nursing and convalescence period, he charmed the vets with his sweet personality, and we were thrilled when a caring young couple offered him a forever home.
Those cats which were more feral, once treated and spayed/neutered, we returned to where they had lived before – if there were inhabited houses nearby with cat-friendly residents. In most of these places Panagiotis of Pegasus has installed weather-proof feeders (thanks to a donation by the charity SCARS), and we have been filling these on each of our visits and supplying Pegasus with food as often as we can. Feral cats who could not return, as there was nothing and nobody left in their former locales, we managed to find new locations for, where the cats have settled and flourished.
One of the fire cats is still waiting and hoping for her happy ever after home. Could it be with you? Young Galini lived an additional horror during the fires. Not only was she scorched in the blaze, suffering burns to her face and paws, she was also carrying a tiny time bomb inside her – a dead kitten she had been unable to give birth to, stuck in her womb and slowly killing her with septicaemia. Against all odds, this beautiful odd-eyed white cat with the black beret and tail survived. She is gradually gaining strength and confidence with the care of her foster mum, but needs a forever home with someone who has all the patience, time and love to help her forget her ordeals and start life afresh.