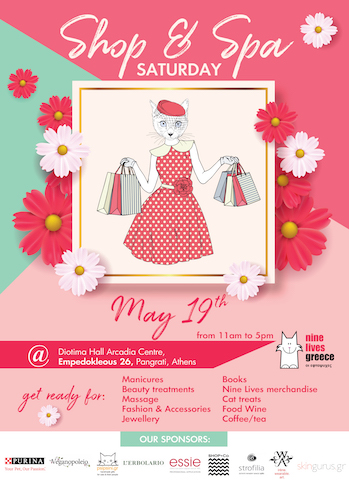 Nine Lives Shop & Spa fundraiser!
May 14, 2018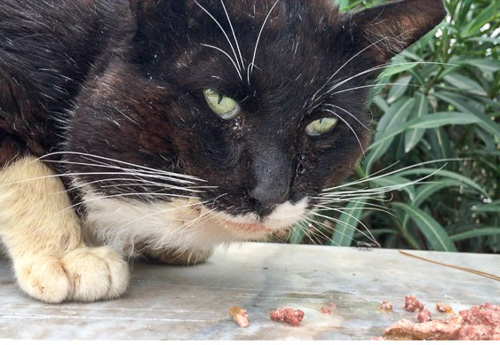 Lino, the smartest cat on the block
July 9, 2018
Nine Lives Greece volunteers talk cat welfare with the American Community School of Athens' START club students, a stray animal rescue group.
It is always a joy to meet fellow animal-lovers who are truly caring, responsible and active – and even more so when those animal-lovers belong to the next generation.
So you can imagine how elated we Nine Lives volunteers were this May to be invited to the American Community School (ACS) of Athens to meet the members of the school's Stray Animal Rescue Team, or START, Club.
This student-initiated group of middle school children and their advisor, teacher Laura Kollintzas, set up the club to help stray animals both on their own campus and elsewhere in Athens. On campus, they take care of the local stray cats through feeding and vet care. To reach a wider range of stray animals in need, this year the club decided to support Nine Lives Greece.
Mimika and Cordelia from Nine Lives met club members Corinna, Olianna, Marissa, Maria, George, Antonis, Peter and Oddy on May 16 for an informal discussion over lunch prepared by the kids themselves. After introducing the work of Nine Lives for stray/abandoned cats in Athens, the Nine Lives volunteers then enjoyed a lively Q&A session with the START club members, ranging from the hot topic of spaying/neutering, to how to help injured cats, parental concerns about health issues (particularly toxoplasmosis) and the pros of adopting abandoned/stray animals versus buying puppies or kittens from petshops or breeders.
All of the START club members have their own cats and/or dogs, and all showed a very keen and responsible interest in the welfare of strays and ways they themselves and their peers can assist stray animals in need. Teacher Laura, meanwhile, is a rescue cat mum herself and a most eloquent advocate of adoption and TNR (trap-neuter-return).
At the end of our visit, we were presented with an extremely generous donation of cat food collected by ACS students, to feed the 450-plus colony cats in Athens taken care of by Nine Lives.
Just a few days later, at the school's Spring Fair, the START club members followed up their support by running a stall selling Nine Lives merchandise – including our 'Cat Tails' book (the stories of 40 former stray cats, as told by their adopters), notebooks, cat-themed purses and pencil cases – raising much-needed funds to help Nine Lives to continue neutering and vet care of stray cats in Athens.
We are so very grateful to the START club, Laura and ACS for giving us such a warm welcome.
Our visit to ACS followed presentations, assemblies, Q&A sessions and themed arts and crafts at Athens schools including St Catherine's British school, Campion international school,  and Athens College Greek private nursery school.
Our next school diary date is with a Greek state primary school in downtown Athens. Watch this space for details!