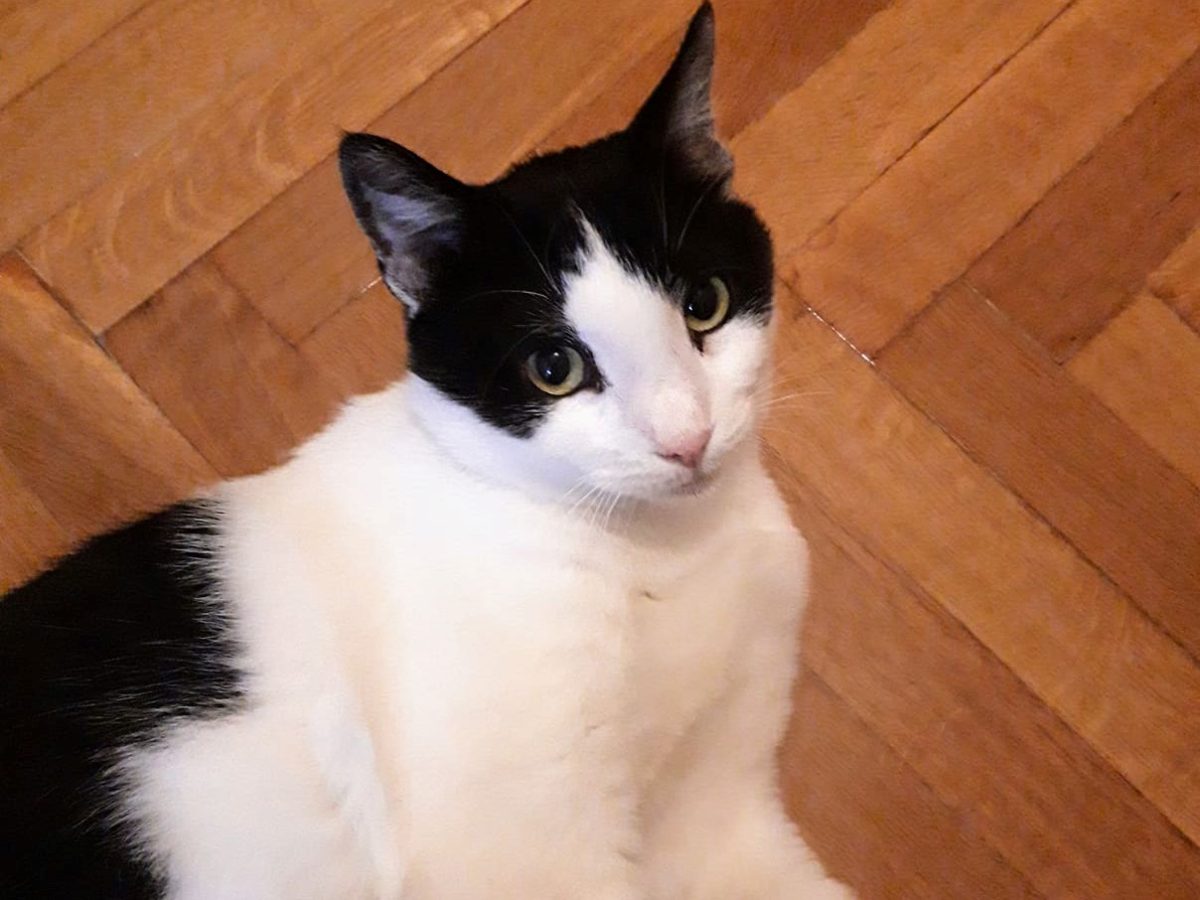 A collector's case
December 29, 2019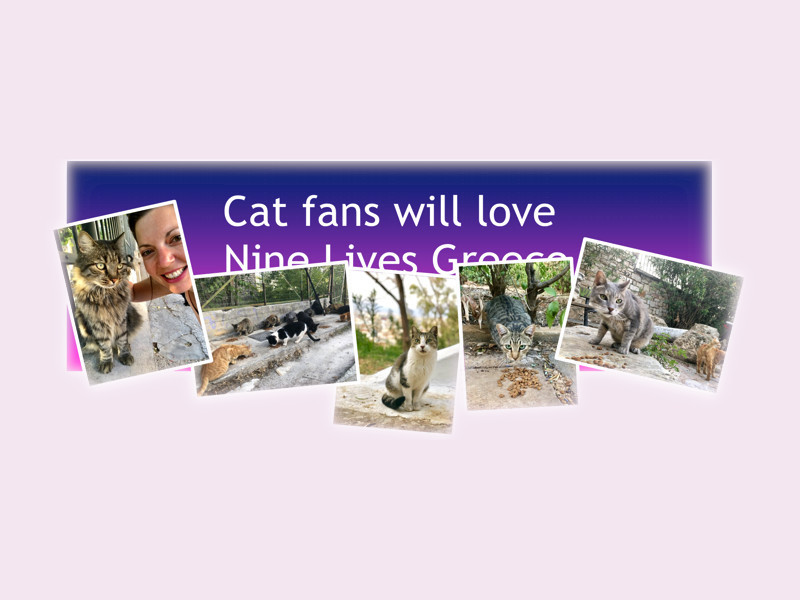 Cat fans will love Nine Lives Greece
February 17, 2020
A story of a short and profound friendship. A story of joy and tears that knew no division.
Written by Andreia Splisgar
Impossible that one cat named Aliki will ever leave my memory; impossible that her otherworldly kind and graceful character will find a substitute; impossible that I stop calling her every day as if she never ever left.
Since we had to help her leave her exhausted body a month ago, we celebrate her every day with whatever comes into our mind. We celebrate her as a symbol to all those who battle for a save place, to survive, to be respected. She is now another star that shines above animal rights, rescue and protection. She makes clear of how unconditional we must love.
But I should start the story the day we met and those particular circumstances that united several beautiful encounters.
I discovered Nine Lives Greece when the eastern coast of Athens was on fire in 2018 and medication to soothe the animal victims ran out – we quickly organized parcels with first aid stuff and shipped it to Athens and I came to know the passionate work of this organisation.
Little did I know what was to follow!
Cordelia from Nine Lives and I stayed in touch over the months, sharing interest and passion for the unprotected , abandoned and often abused. She in Athens; me in Morocco, on Tinos and in Berlin. It was through Nine Lives that I got in contact with the most committed vet (and his dedicated team) of the Aegean islands, with whom I now cooperate in animal welfare and creative activism, Dr Manos Vorissis.
In May 2019, I stayed in Athens for longer and finally met Cordelia and the cat colonies Nine Lives takes care of in the area of Plaka. And there she was – Aliki, the tricoloured lady in need of help. Cordelia told me of her worries about the delicate nature and fragile health of this gentle cat lady and that they would again be taking her to the vet soon to check up her state; and how much they would love to find her a proper home that is not the urban jungle of Athens.
What crossed my mind the very second I kneeled down to feed her was a clear voice: she would have a place in our Berlin animals and arts sanctuary (note: animals come first) if help was needed . And it was needed! Soon after, I got the news that her blood tests showed Aliki suffered from advanced Chronic Kidney Disease. No way she could be back to stray street life.
In August we would unite in Berlin! I started to prepare our gang of 7 cat siblings with the news; some were cool with it, some seemed to be not amused. But I was somehow certain that this charming tricoloured Greek beauty would find her way into our all hearts. And I always request and expect compassion and knowledge from my co-habitants – cat people or human, whoever they are.
So up to this line it reads like a diary of one of the many fortunate rescues that happen around the planet every day. But each rescue has its own tragedy, its own delight, its beginning and its very end which creates endless singular stories. Can we learn from sharing them with others? Hopefully.
The story of Aliki Mou (she demanded to be called this way!) had a turn under the Acropolis and ended far too soon in an artists' home, that became for 3 months only a safe haven in which she was the centre of attention of everyone.
From the very moment Aliki arrived, there was never an aggressive moment from any of the cats versus the new entry from Athens: it was as if her gentle and observative persona took away any suspect in all the others. She came and she won. She was HOME from the very start – as if she had never ever been somewhere else. Magical, to say the least.
We loved living with her as much as she manifested to love being with us. She enjoyed the gardens, the big house; she enjoyed especially the absolute attention and caretaking that we offered, to as to stabilize and relieve as much as possible her severe health issue. She also found two family member cat companions that she liked to be close to, young Arletto and big old Zen cat Pablito. All felt as if it could not be any better.
There was so much trust from her side, so much connection with us, an immediate bond . A fierce cat at the vet's (she was untenable, almost feral once we were not around), she was charming and cooperative once back with us. She accepted the many treatments, became stronger for a period, was full of life. And of course, we believed in miracles. We still do.
But all that could not save her from the disease developing when already so much advanced. After a short positive period, the kidneys rapidly gave up resistance; the small percentage of healthy tissue left in them wasn't enough to keep up with the rest. Aliki herself told us the time had come to be released from trying – even when there were ups and downs. At a point there were no ups no more, we sat with her for a night and she faded in our arms as if to tell us Adieu. Her heart was strong and would not give up, but the small body could not fight back any more. We decided to help her to let go. It was the 25th of November.
The following is what always happens to those left alive, at least to me – the soul of the beloved enters you and continues to be part of one's own. Someone leaves and continues to stay where the love has been. The love and light. And the wound is where the light enters you, Rumi said.
If you have read on to this point (for which I respectfully thank you), I want to add what is dear to me and should be said in memory of all the companions that we and others have lost to Chronic Kidney Disease.
It is a disease that is inborn and a genetic defect that sadly comes with all cats. Those who have a very protected life from birth onwards with healthy food (which is another chapter in itself) and always fresh water, will have a greater chance to avoid the breakdown. But many who are born in weak and poor circumstances and must fight for survival even as kittens; those born on the streets or from unaware breeders; those who have eaten poor food even in proper homes – most of them will probably face the point at which their kidneys stop working properly.
Chronic Kidney Disease, if discovered in time, may be stabilised for even long time – but it must be discovered in its beginnings. Which is, of course, extremely difficult, especially with stray cats. Blood tests have to be done at least every 6 months, even at a younger age. Special food has to be given and supplements added. But still, there is no cure that can save a cat with diseased kidneys, till today.
All we can do for these cats is to open our hearts and homes to them. Aliki, like so many others before, showed me the gratitude and compassion that derives form such an act. Adopt them even if it is just for limited time, so to offer them final care, a safe place and attention. Their will to live and thankfulness for that given chance is overwhelming. They embrace your gesture and open hearts and make magic happen. Their nine lives are a chance to them and so to us !
Aliki blessed us with her trust; I won't miss a single moment with her, each hello has by the rules of life a farewell. Thank you, Cordelia and Nine Lives Greece for the efforts you never miss offering to all those in need. Our help is vital to those less fortunate; our help is vital to the planet and all beings, vital to our own existence.
With Aliki's sparkle, I wish all of you who had the patience to follow my story a peaceful 2020 under the spell of freedom, awareness, and strength to help wherever help is needed. And here I am not just speaking of cats, but of our urgent support of the planet's wellbeing in general. The bigger the network of awareness and caretaking grows, the better and brighter the future will be. Let us catch Aliki's sparkle and multiply its shine.
Useful information about feline Chronic Kidney Disease: Early diagnosis of CKD