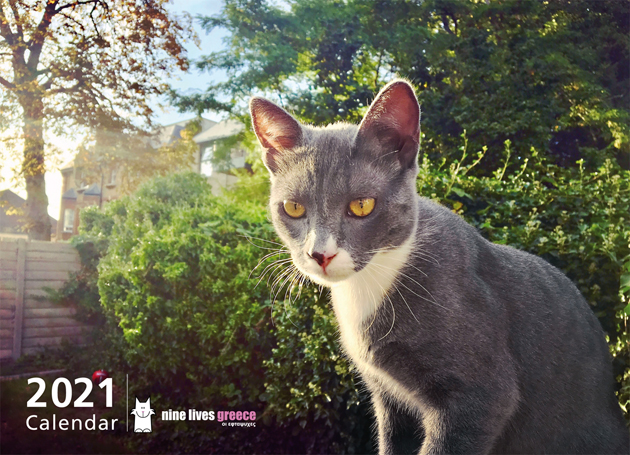 2021 calendar is here – Home sweet home edition!
September 7, 2020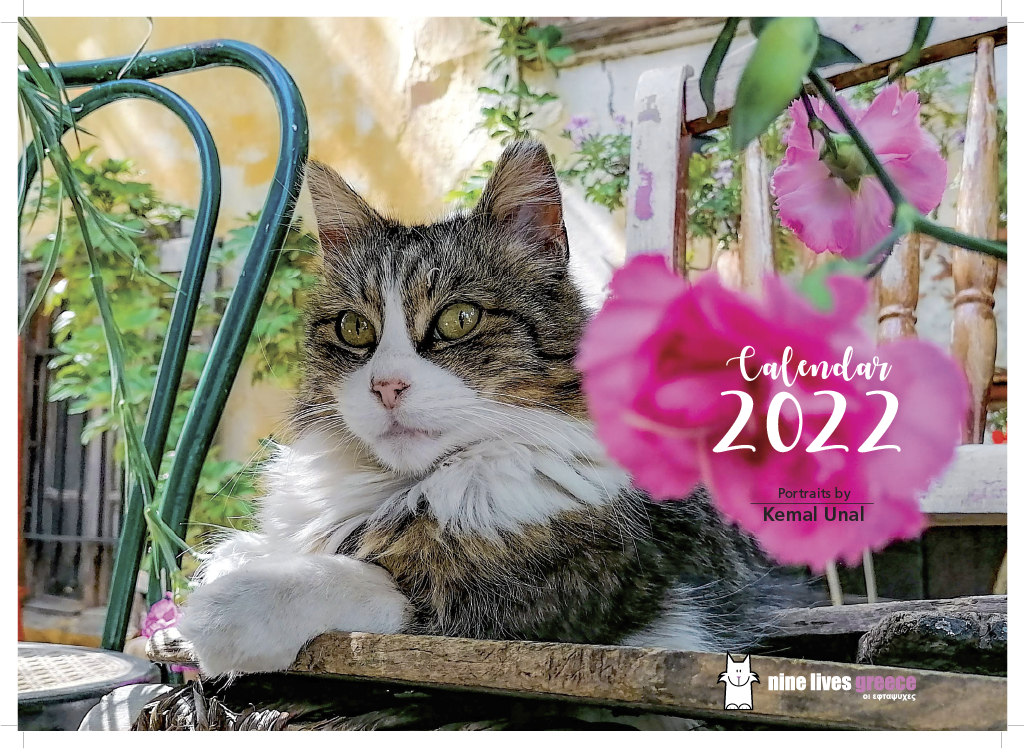 The 2022 Nine Lives Calendar: an ode to our seniors!
October 23, 2021
Time flies when you're having…cats! It has been exactly a year since we got an email asking us to assist in the rescue of 20 cats from a hoarder. These poor souls were living in a dark basement, without food, water, human contact or even light.
Without any help from the authorities, using on our own resources and the invaluable help of Vicky, who reached out to us, we managed to take all of them from the hoarder to the vets for neutering and much needed medical care. These cats, all young in age, were sickly and unneutered, full of parasites and suffering from cat flu, but nevertheless fond of humans and in dire need of being loved and caressed. Unfortunately, help came too late for three of these pitiful beings, who expired despite the best efforts of the vets, but the rest were now in our hands, as was their future.
A long journey began, full of uncertainty and agony, huge expenses, heartbreaking stories but also a lot of happy endings. It's hard to realize it took us a whole year to finally get closure for these cats, while the legal aspect of it is still very much active.
Four of the most independent ones moved to a safe outdoors place, where they enjoy a happy life. They are sheltered from the weather and have access to food while being loved by the residents of the establishment – humans as well as other felines.
Senior Olive and fluffy Aris were adopted in the countryside. They adjusted perfectly and are kind and tender patriarchs of the younger generation who also live in this rural idyll. They spend their days snuggling, eating and soaking the sunlight they longed for.
Pan and Niamh (now Artemis) were adopted together and live a wonderful life with their adopter Kit. Although Artemis was shy at first and had several relapses with cat flu, with love and patience they flourished and now enjoy a happy routine in the most wonderful home together. They have bonded strongly, playing and sleeping together and grooming each other.
The famous Poirot, as unique as his moustache, stole the heart of his parents in the UK and his Instagram followers. An incredible feline, he has become the leader of the pack in his neighborhood, adding some Greek sass to his surroundings!
Joy, a happy black girl full of charm and playfulness, found a home here in Athens and a new brother to spend her days with. After only a few days, she and Einstein were inseperable! They now do everything together and their friendship was the gift that their parents were hoping for, as they had recently lost their female cat, leaving Einstein sad and lonely.
Atlas had the great good fortune to be fostered by Mali, on a work visit to Athens from the US. From the moment Atlas strutted into the apartment, Mali knew he was in her life to stay. He got everything needed at the vets to travel; Mali booked him onto her return flight, and a month later, when it was time to leave, they undertook the long transatlantic journey together, Atlas probably the most peaceful and best-mannered passenger on board, according to Mali. He lives very happily, king of the household, with her and her husband.
Little Button was the only kitten among this group – strangely, as none were neutered, but it seems that the hoarder was disposing of the kittens… Somehow Button survived. He has been adopted by a wonderful family who already had a slightly older kitten, Oliver, who is now his best friend forever.
Tragically, months or even years of neglect did take their toll on two of the rescued cats. Ermis/Koufax was fostered by a lovely volunteer whose aunt fell in love and ended up adopting him. Unfortunately, Ermis got sick this year and perished. But he knew love, kindness and good care for 9 happy months, living life to the fullest until that moment came. Another loss was that of Linda, a black cat who was fostered by Vicky and notwithstanding all her tireless efforts and care, she crossed the rainbow bridge earlier this year.
And then there were 3. Princess, Charlie and Ben (former Pirate). All of their friends had found homes but these 3 were still in foster care. We would get very excited when an offer would come in but then something would change the mind or situation of each potential adopter. The three friends were very happily spending their days together but they had to find a permanent home soon. Then, like a miracle, an offer for all three! We read that email from Clare and her husband over and over again and couldn't believe the cats' luck. A triple adoption for adult cats, right here in Athens – it was unthinkable! And yet true.
But nothing would go smoothly for this trio. Shortly after the home offer, Princess got very sick and had to be hospitalized. She had stopped eating, lost weight and the once regal cat was now a shadow of her true self. As the cause was unknown, it was decided that Ben and Charlie would move in with Clare right away, while waiting and hoping for Princess to join them once well. They adjusted perfectly and the big house was now their playground. They enjoyed their lost kittenhood to the fullest! In the meantime Princess was in and out of the clinic. However, she started recovering, thanks to the dedication of foster mum Vicky.
The amazing family was waiting for her to be ready and after a while she too joined them and was reunited with her friends. Her guardian angel, Ben, was delighted to see her, and they finally got the happy ending they deserved.