Τάισμα αλά…γαλλικά!
April 28, 2016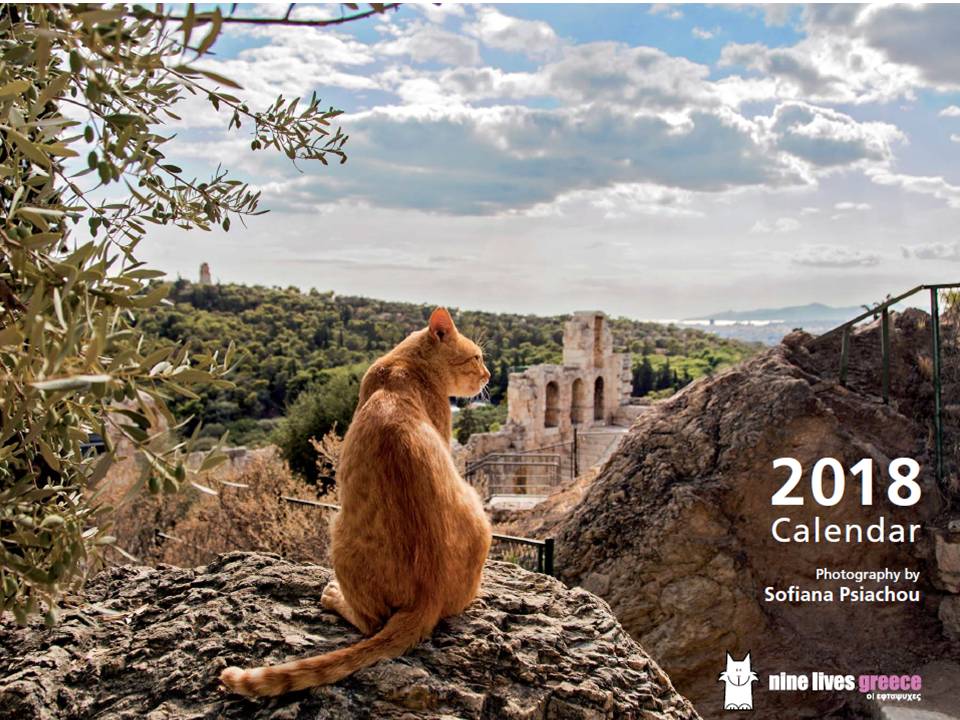 Stray cats with phenomenal looks appear on the gift that keeps on giving!
October 5, 2017
Featuring beautiful feline supermodels from the streets of Athens, the Nine Lives Greece 2017 cat calendar is on sale now.
Looking for the purrfect gift for cat-loving friends? The Nine Lives Greece 2017 calendar is the season's top stocking filler! Featuring gorgeous portraits of photogenic Athenian felines in an attractive layout with space to note your essentials, all proceeds from its sales go straight back into helping those very same cats through feeding and vet care.This year's edition is photographed by José Escobar. The Cuban-born professor is based in Thessaloniki, where he devotes his time to caring for cats, photography, ink painting and drawings. We have long been fans of his work, and when we asked if he would like to come to Athens and photograph some of the 450-plus street cats we take care of every day in the capital, he enthusiastically agreed. He describes the experience of working with Nine Lives Greece, photographing the cats and meeting the devoted individuals who care for them, as rewarding and moving.
The layout of our calendar is once again by the talented graphic designer Marketa Jagerova. Our friendship with Marketa goes back four years, when she came on holiday to Athens with her partner and found a kitten stuck in a car engine. That kitten, Odysseus, now lives very happily in Marketa's home, helping with the finishing touches of each year's Nine Lives calendar.
In contrast to the souvenir cat calendars commonly available at tourist shops around Greece, every single cent of profit from sales of the Nine Lives Greece calendar goes directly into the continued feeding and veterinary care of street cats throughout the Greek capital, some of which are featured in the calendar itself.
The full-colour wall calendar, with captions and holiday dates in both English and Greek, costs 10 euros per copy (excluding postal charges).
For Greek residents, if you live in Athens, you will find our calendars on sale at our fundraising events, or we can send you details of your nearest stockist. If you live in Greece, but outside Athens, we can send the calendars to you by post, with the antikatavoli (cash on delivery) system that includes a small charge for the post and packing.
For our friends who live outside Greece, please email us your order and address, so that we can let you know the postage costs and payment arrangements.