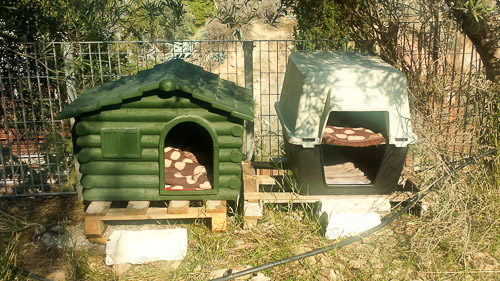 Neutering, feeding and love transforms a cat colony
January 4, 2018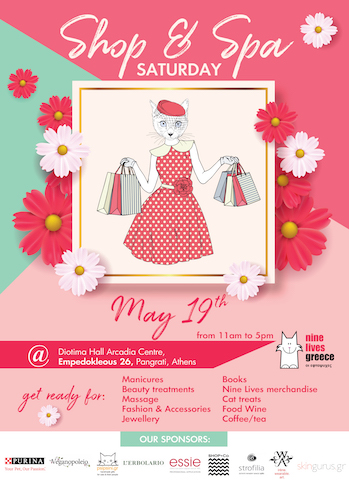 Nine Lives Shop & Spa fundraiser!
May 14, 2018
Thanks to the incredible support of our all our friends, we have received the funds to spay/neuter every single cat in our World Spay Month gallery, before the month even finished! As well, all of the  monthly pledges we received will give us the ability to spay/neuter even more stray cats throughout the course of the year, giving even MORE felines the chance to live longer, healthier lives. We are immensely grateful for such a phenomenal show of support. Thank you to everyone who donated!
While generous donations have been coming in all month, Nine Lives volunteers have been working hard to trap, spay and return the cats to their colonies. We will continue our trap/spay/return efforts until every sponsored cat has been spayed/neutered. Thank you!
While reaching our target is a story of success, every day we are asked for help with unneutered street cat colonies in Athens. Even while catching and taking the sponsored World Spay Month cats to the vet for spaying/neutering, our volunteers are coming across more stray cats at many of the colonies, displaced through chasing and fights during the mating season: exhausted and hungry female cats, some pregnant already though barely out of kittenhood themselves, and battlescarred tomcats resting over at neutered colonies before heading out to the fray again. It's an urgent situation. With your help, we hope to help these cats have the chance of a healthier and calmer future too, through neutering/spaying and vet care.
Anyone who has been thinking of contributing to World Spay Month but didn't have the chance to do so, it's not too late to help. A donation today allows these additional cats to be spayed/neutered and receive necessary vet attention.
Become a Friend of Nine Lives to sponsor a cat today
#World Spay Day is an annual global campaign started by Humane Society International in order to spotlight the importance of spaying/neutering as a proven way to reduce stray cat populations and improve their everyday quality of life.
Setting ambitious targets and engaging passionate and tireless volunteers to care for the cats is only part of the equation. Without our generous and committed supporters, all of this work would not be possible. Despite the challenges that face Athens and its feline inhabitants, we are grateful to have such true Friends who continuously rise to the challenge with us.
From all of us at Nine Lives Greece, we thank you from the bottom of our paws!