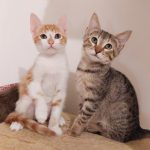 Adam and Adelle
November 2, 2023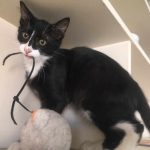 This gorgeous little creature with the expressive eyes is Patty.
She was abandoned at Patisia in a carton box with a bowl of milk.
She is about 1.5 month old and has received antiparasite treatment.
She is truly friendly with other cats, loves playing and being petted and she also is a proper purring machine. She knows how to use her litter box and eats dry kitten food.
Who is going to open their heart and their home for this tiny fluffball?