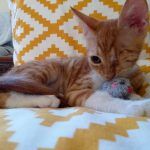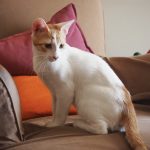 This pair of kitties is looking for a home together. Both are shy but sweet, and they are very affectionate toward those they trust.
Paloma (white-grey) is a tender and sensitive little girl. She is quite shy but also curious. She is often afraid of anything new, whether it is a noise or a person. She hides, takes some time, then comes out to evaluate the circumstances. But as soon as she trusts, she turns into an incredibly cuddly little creature who wants to spend most of her hours in someone's arms and sleep there. She is very playful, and she likes to chase her brothers as well as balls. 
Caipirinha (silver tabby) is a very active and tireless little girl. She likes to play for hours and hardly gets tired. But when it's time to sleep, she'll look for a lap to sleep on! She has a very beautiful colour, nice dark brown lips and a belly full of dots. She really likes to play and chase her siblings for hours. She doesn't like changes and new things very much. She is easily put off by something new, and it can take her a long time to get used to it. Apart from playing games, hugs and caresses are her next favourite things, while she even meows non-stop until she gets them! 
They both get along well with other cats, but they haven't been near dogs before. During their foster time they have started to learn the harness, the carrier and being transported by car.