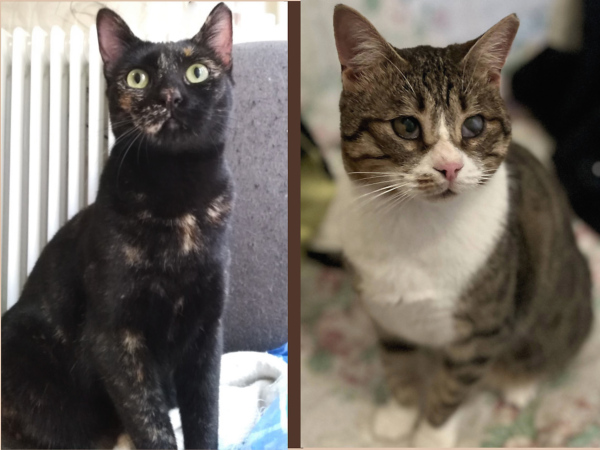 Niaou & Ninji
December 21, 2022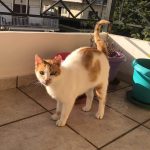 When he was about 3 months old, Nemo became an abandoned cat in a colony that we work with. He was always an affectionate purring machine, calm, sociable with strangers, got along well with all the other cats in the colony and even with the dogs in the neighborhood.
Though he has only one eye, Nemo is totally functional.
Now about 12 months old, he is impressively adaptable and affectionate!  From the very first minutes that he arrived at his foster home, he patted his temporary mom with his paws without using claws and purred intensely. He eats with great joy. Nemo  plays for hours with the child of the house. After two days, Nemo slept in the same bed with the dog. They play together and he often steals a couple of kibbles from the plate of his new friend. He also likes to steal peanuts which his temporary mom always hides.
Some of his favorite pastimes include sleeping in the arms (or on) his temporary mom, playing with his toys, particularly the mouse stick and hiding behind the curtains, believing that no one is watching. He is very quiet, has never clawed anyone, and cooperates with taking his nutritional supplement every day. 
Nemo doesn't complain about anything, even when he visits the vet and even when the vet examines him! He purrs happily in the carrier. He is a very sweet kitty, bright and kind.
He can be adopted in a home with another cat/cats or with a dog or even alone although we think he enjoys the company of other two-legged and four-legged housemates.
Won't you consider giving him a chance? If interested, just click the pink Contact button below.