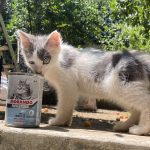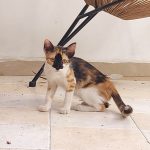 This is the story of Monica, a sweet young cat for adoption.
Her mother was found exhausted, scared and ready to give birth. After long hours of effort, she was caught and taken to her rescuer's house where she gave birth to 6 kittens. We saw these little rascals' evolution from the first day of their lives. We were there when they opened their eyes and while they were trying to learn how to walk.
They all found a home except Monica and we can't figure out why. Monica was always the most tender, the quietest, the cuddliest and the most 'mature'. She is a wonderful little creature who loves cuddles and caresses, gets along great with other cats and follows you wherever you go. We think it's time for her luck to change… What do you say?