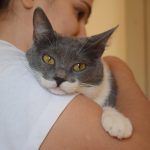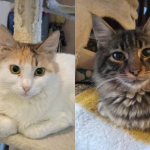 Kouklos & Omorfi
June 21, 2023
Flora needs a home of her own!
We found her on April 22, in Patision, definitely lost or abandoned and she also was in heat. She was asking for attention and caresses from passers-by and was indifferent to cars. It was a matter of time before something bad happened to her so we took her in.
She got spayed, vaccinated, she is Fiv-felv negative and is fostered in a place with many cats, but she is not happy because she is the type of cat that wants to be the centre of attention. In the end she gets along with them but ideally she would like to be alone in a house and bond with the new parents, since she is so people-oriented.
Flora is looking for a house, with very well protected balconies and windows, as is the place that she is temporarily fostered.