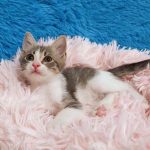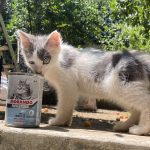 Sweet little Asterakos, a blind kitten, was found all alone on the road when he was just 1 month old. The volunteer who saved him heard his crying and took him with her.
Asterakos may be blind, but he is a kind creature full of love! He is about 2,5 months old, incredibly sweet and playful. He loves cuddling, petting, hugs and he uses the litterbox without a problem like the gentleman he is! Despite his blind eyes, he's as cute as can be! Since he's blind, he can't live on the streets. That's why we're looking for a forever home where he will be loved and considered a member of the family.
Our lovely Asterakos deserves the best chances in life! Please open your arms for him and he will repay you in the best way like the little angel he is.